Coach Nikki Caldwell held her first press conference today as the head of the UCLA program. Watching the interview, her confidence comes through. I can't wait to see the team play! Four days and counting. Here's the link to the interview:
http://uclabruins.cstv.com/sports/w-baskbl/ucla-w-baskbl-body.html
____________________
Unfortunately, the news was not as good up north at Cal, where senior Devanei Hampton has been sidelined for 12 days after her healing knee flared up:
STANFORD, Calif.: California center Devanei Hampton, the 2007 Pac-10 Player of the Year, is being held out of practice probably until at least next Tuesday because of a setback with her surgically repaired right knee.
The 6-foot-3 senior underwent a knee operation at the start of last season and then another procedure this past offseason to clean it out. Since official practices began Oct. 17, she had been experiencing regular swelling that kept her out of some drills, coach Joanne Boyle said Tuesday during a media day for the Cal and Stanford programs.
Last week, Cal athletic trainers decided to hold Hampton out of practice for 10 to 12 days, which will take her to about next Tuesday. She also received a cortisone shot in the knee.
Here's the link to the entire story, by the Associated Press:
http://www.iht.com/articles/ap/2008/10/28/sports/BKW-California-Injuries.php
As the owner of a knee with tendinitis, I really sympathize, and I wish Hampton a complete and quick recovery.
____________________
Finally, there was the cutest picture from yesterday's Lady Vol practice. Not sure what's going on here, but someone on "the Summitt" board suggested that Vicki Baugh was carrying freshman Briana Bass to her team after scrimmage teams had been picked. Whatever the case, the reports seem to be true that this team is already pretty dang close for the amount of time they've been together. This is good news!
And this is adorable: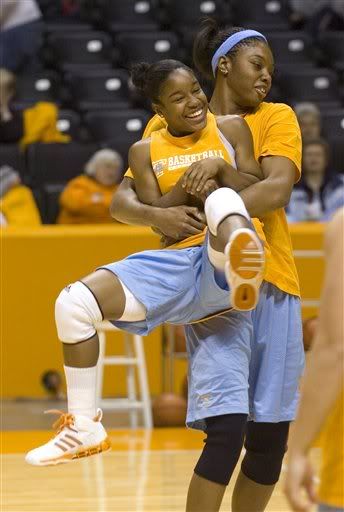 Bass really reminds us Tennessee fans of Shannon Bobbitt. Hopefully she can bring the same kind of energy. I want this team to start bringing home some championships soon.